Browse Products:


Decals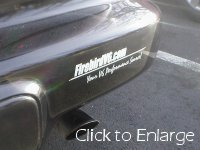 FirebirdV6.com / CamaroV6.com is proud to present an entirely new lineup of site decals! At the track or at the local hangout, show off your favorite website with pride with these decals that measure 9" x 2". We offer six different varieties.

These top-quality, weather-resistant vinyl decals are made by FireBat of www.firebatscave.com, a fellow F-Body owner who is proud to support the V6 F-Body community with his outstanding work. Like what you see here? FireBat can make all sorts of custom decals for your ride--check out his site for details!

Need custom graphics work done? Maybe some sort of electronic graphics file to have FireBat make a decal out of? FirebirdV6.com / CamaroV6.com uses and very highly recommends the work produced by Pathogen Productions for all manner of automotive graphics. Check out their gallery of absolutely gorgeous muscle car digital artwork!